Subscription Plans and Pricing
EasyAR offers a cost-effective price and flexible subscription plans to meet
the demands of projects of all sizes.
EasyAR Sense 4.0
EasyAR Sense 4.0 provides you with three subscription modes: Personal Edition (Free),
Professional Edition (Monthly Payment),Classic Edition (One-time charge for lifetime use)
and Enterprise Edition (Customized),which can better meet your business needs.
Basic Features(included by Sense of all editions)

Planar image tracking

Custom camera support

Unity3D support
3D object tracking

External algorithm support

Android ARM64 support
Surface tracking

Screen recording

C /C++17 API/Traditional C++ API
Multi-target recognition and tracking

Transparent video playback support

Java/Kotlin API for Android
Multi-type targets recognition and tracking

Video playback using hardware decoding

Swift/Objective-C API for iOS
CRS support
Users of pro editions of EasyAR Sense 3.0 and previous Sense will not be affected. You will recieve a subscription service of value $499 directly after upgrading to EasyAR Sense 4.0.
Update Now
Know more about Sense 3.0
EasyAR CRS
Provide cloud based image recognition for large scale databases!
EasyAR Cloud Recognition Service
Subscribe for 10 months and get 2 months free
Subscribe by API usage
(API usage/day)
500 usage
15 days free trial
10000 usage
$89 /month
20000 usage
$

178

/month
2 DAU
15 days free trial
1000 DAU
$89 /month
> 20000 usage/day or > 1000 DAU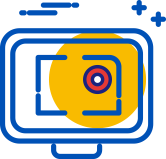 If the API usage or DAU exceeds the limit, you will be charged at $0.01/API Usage or 0.05/DAU depending on your billing method. You will receive a bill for excessed usage. Past due bills will cause your service to be suspended
Contact business department through 400-901-0688 or support@easyar.com for more details